Fibre optic starlight ceiling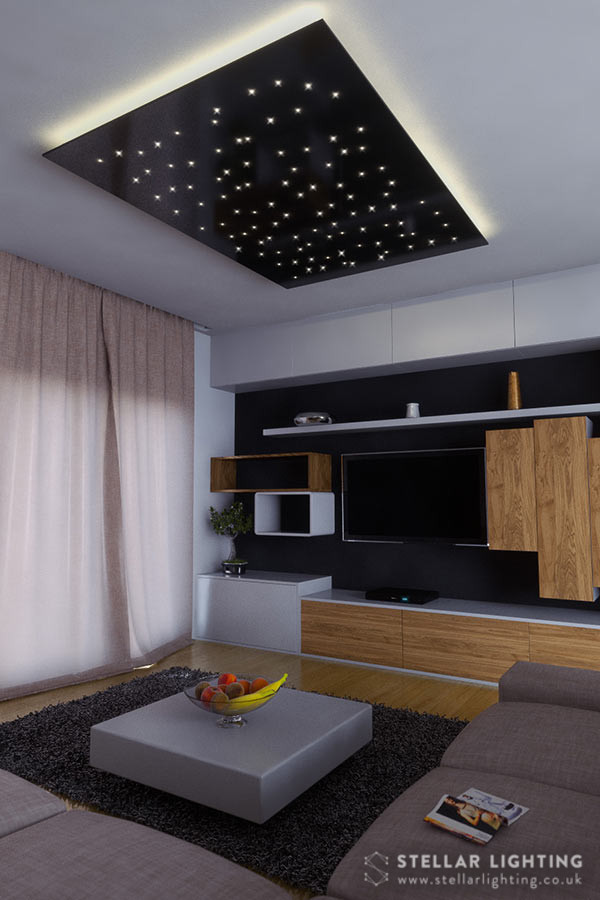 Fibre optic starlight ceiling
A fibre optic star ceiling creates a relaxing mood and is sure to provide a talking point at your home or business premises.
Our starlight ceilings come in a variety of shapes and sizes, which can follow the shape of your room in harmony with its proportions, or act as a feature highlight. You can choose from white star points, twinkling white lights or colour changing RGB star points and opt whether to include colour changing RGB edge lighting.
The panels are available in four colours: black, white, silver and gold.
The guide below has more information on the options available for your panel. Please choose your light engine and edge lighting preferences then select your options below. Please note: we will ask you for your choice of panel colour at the checkout stage.
(Pictures are for illustrative purposes)
Please note that our fibre optic star ceilings are manufactured to order in Poland and shipped directly to customers. Your panel may be subject to additional customs charges and delivery delays, depending on how and whether a Brexit deal is implemented.
Our panels are available in a choice of four plain colours:
Light engine options
We offer a choice of three light engines, giving you different effects:
white - static white star lights. These lights are either all on, or all off, controlled by a wall switch

RGB - colour changing star lights with a remote controller so you can choose the colour you want, or enjoy a cycle through different colours

white twinkling - star lights, switched on and off at a wall switch, with a constant twinkling effect
Edge lighting options
You can choose whether or not to include edge lighting. Where edge lighting is included, strips of small LEDs around the perimeter of the panel provide a soft glow to complement the star light effect provided by the optical fibres. These LEDs can be set to one of eight colours, have adjustable brightness and can cycle through colours, depending on the program set.
Standard features:
Optical fibres transfer light from a hidden light source along their length, emitting it at the end as tiny star points distributed across a flat panel. All our fibre optic star ceiling panels have approximately 100 star points per square metre. They are made to order, according to the options you choose. The lead time for our fibre optic star ceilings is approximately 5-6 weeks from placing the order to delivery.
Delivery by courier:

Included for most UK mainland addresses. See terms and conditions for more information on delivery

Installation:

Installation screws are provided (subject to confirmation of ceiling materials)

Can be installed underneath an existing ceiling and connected to an existing ceiling power supply

Full instructions and video guide provided
Light engine:

Lifespan of up to 50,000 hours

Embedded in the panel as a self contained unit, meaning there is no need for access to the ceiling space above
Panel:

Compact design for easy installation on almost any flat horizontal or vertical surface

Depth 10cm

Made from dibond - aluminum with polyurethane core
Stellar Lighting fibre optic star ceilings come with a two-year warranty for your peace of mind. Information about our range of fibre optic star ceilings is contained in the following PDF product information sheet.
Please note that our fibre optic star panels are designed to complement, not replace, ambient lighting. If you are looking for a source of ambient lighting within your star ceiling, we would be pleased to design an LED star ceiling that meets your needs. Please visit our gallery of LED panel designs for inspiration.
Have you seen our galaxy design starlight ceilings? Available in a choice of three realistic outer space designs!