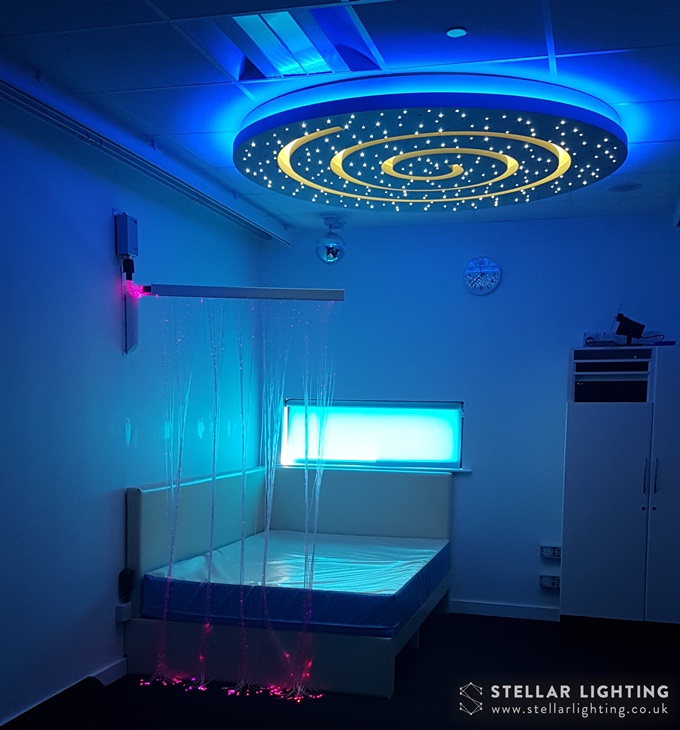 2D Spiral
Spirals offer an enduring fascination, from shells and unfurling petals, through to catherine wheels and staircases. The 2d Spiral ceiling light design combines our LED star lights with a captivating colour changing spiral.
This panel is 1.8 m in diameter. It has glow lighting around the edge of the panel as well as to highlight the spiral, and these lights can be set to different colours using the remote control provided.
We have produced this panel for a dedicated sensory room, and it also works well for bedrooms, living rooms and at commercial premises.
If you would like your panel in a different colour, or if this design inspires you to come up with your own starlight ceiling idea, please contact us
Our LED starlight ceilings are handmade to order and the colour, design and shape can be altered to meet your needs.
If you would like this LED starlight ceiling for your home or business exactly as shown, please order directly from our shop. Alternatively, please use our contact form, email on info@stellarlighting.co.uk or give us a call on 07572 555956 to discuss what you'd like.
Have you seen our other LED Star Ceiling designs?