London Lumiere 2018
London lit up this weekend for the 2018 Lumiere festival. We went to see some of the many lighting installations across the city - from large scale sound and light shows to smaller exhibits, and even one that went past us as we stood still! A lovely event for a January weekend.
More than 50 lighting installations were included in the festival, which was cleverly organised into districts so that visitors could navigate their way around the city seeing different parts in turn. We started with the cluster at Kings Cross. Wow! The piece Aether, by Architecture Social Club with Max Cooper was the first we saw. This sound and light piece was a great introduction to the festival and we spent an enthralling few minutes listening to the music and watching projected beams of light as they bounced off an array of vertical rods, suspended high above our heads. Shortly afterwards, we saw Waterlicht by Dan Roosegaarde, which is designed to explore our relationship with water, and this one really stole the show. For this piece, projected blue light highlighted the swirls in the movement of water droplets in the air over a large area. Breathtaking!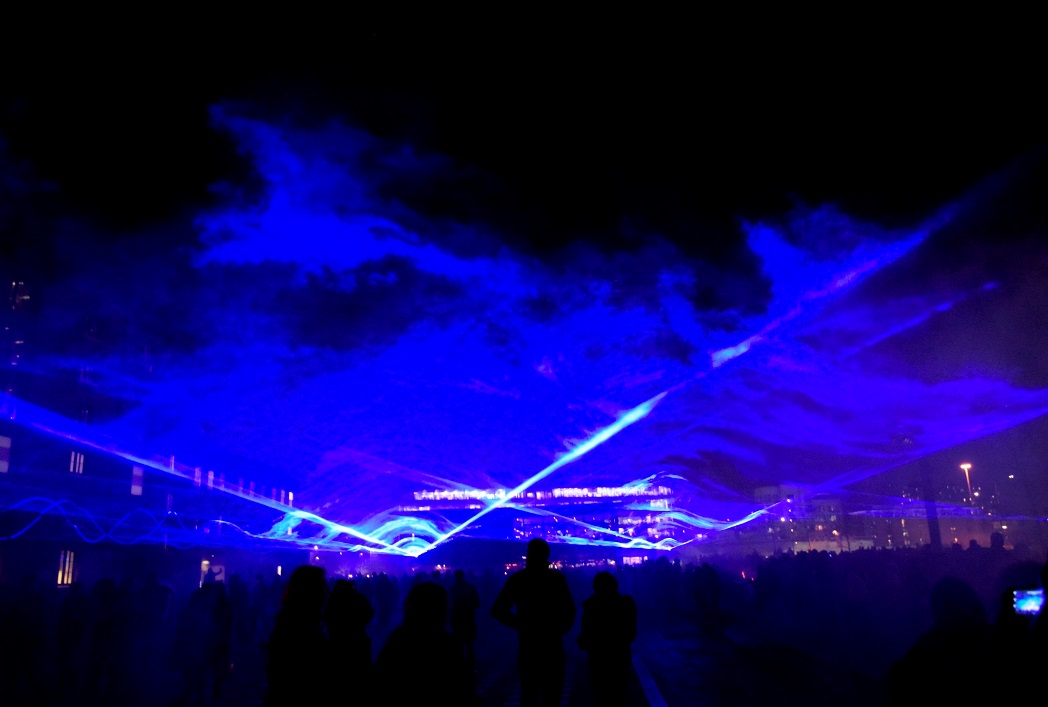 Water vapour reflecting blue light, giving an eerie but inspiring view
In the West End our highlights included Voyage and Friction, which both involved animated projections over the front of iconic buildings, as well as Nightlife, which saw Leicester Square Gardens turned into a wildlife haven. Making our way through Soho, a flock of flamingos flew past us, as we stood, stared and smiled.
What a great idea to bring these creative lighting ideas to the dark January nights - certainly brightened our weekend!